WHERE HAS OUR DEAR SWEET TYLER GONE? HE LOOKS SO TROUBLED.
I really don't want to do this this week. This column is going to take some weird turns. Some days I don't like writing things that don't make people feel anything so I might just get real creepy and personal. All exposed nerves and open wounds. Awkward as a substitute for interesting. I have abandoned the idea of comics journalism in favor of weird tangents, self aggrandizing, and the occasional comic recommendation. This is a one week special. Next week I will be back to talking about…I guess I kind of do this every week. Anyway, I feel like in my war with Unkie Dev (which he doesn't know is a thing… but it is a thing) I am fighting the ground war and he is going for a victory through attrition. We battle each week for column space and witticism supremacy (both of which I win… because I am very witty.) and I fight each week's battle like it is the last. It never is. He has been writing a column that nobody appreciates much longer than I have. This is only my 18th. He is old hat and yelling into the void and his long game is wearing me down. I don't know how he does it. I can barely muster the energy to be excited about telling you, my last loyal reader, about new comics. But muster I will. I got you this. It's not much but it's mustered.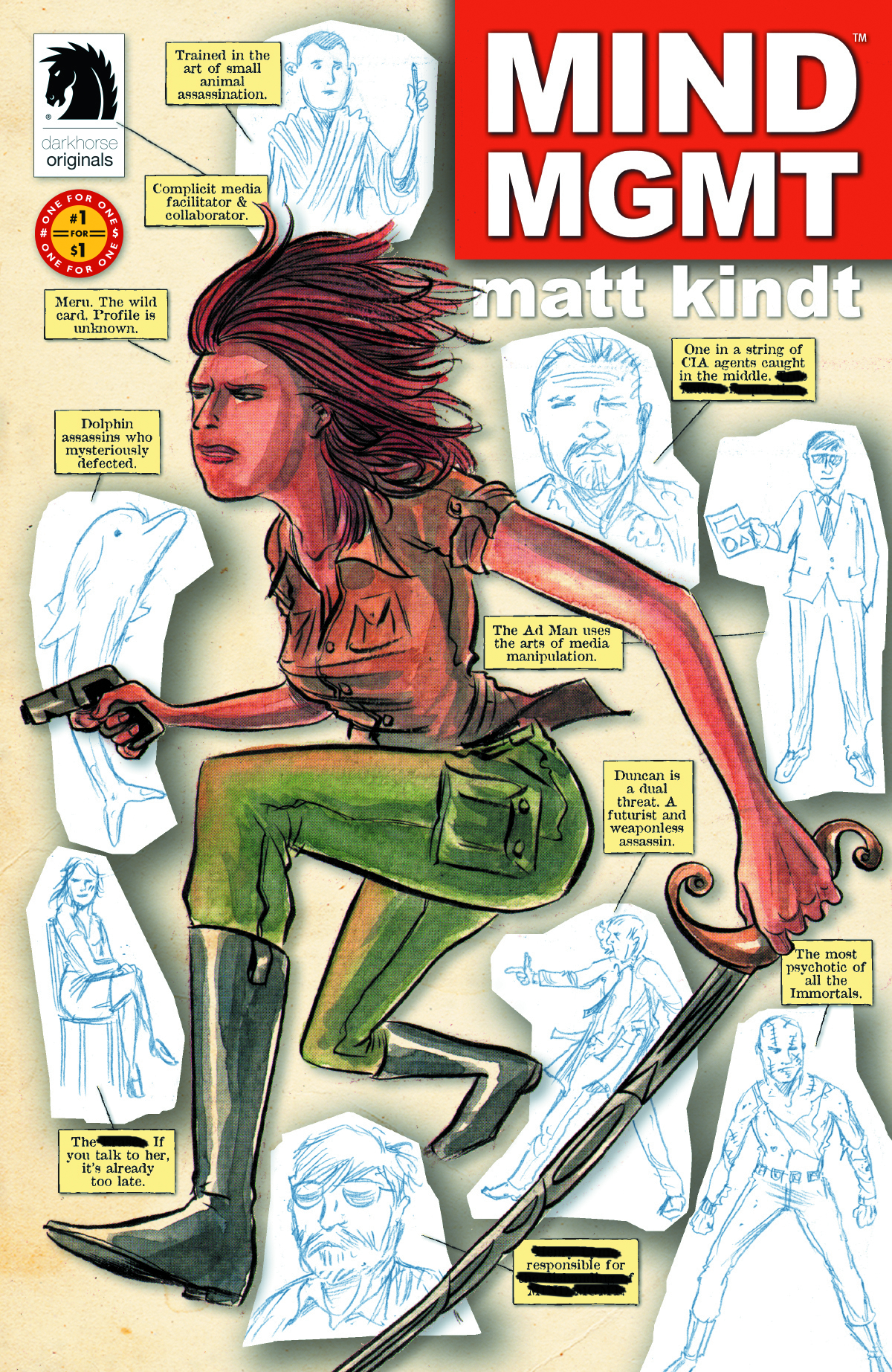 My first review is a twofer. MIND MGMT. Matt Kindt is one of those guys that is hard to pigeon hole. That's a weird term. Seems sexual in a really gross way but I don't think it is. Maybe it is. I don't know. I'm pretty vanilla. Anyway, Matt Kindt's stuff was too indie to get the action comic persons attention, to actiony to get the indie kids excited. That's what made him brilliant. Then his buddy Jeff Lemire broke out in a big way doing a very similar thing and opened a lot of doors. Now Matt Kindt is making waves as one of the most exciting writers at DC and soon to be Marvel but the whole time he has had MIND MGMT brewing. This is one of those books that makes other writers stay up late and curse their brains for not being able to perform these sort of narrative acrobatics. Mr. Kindt makes me feel inadequate, and that is about as high praise as I have. His cerebral conspiracy theory book has become one of the hot books of 2013 with the announcement of an upcoming film and back issues being nearly impossible to find. Now you can finally start catching up with a $1 re-release of issue 1 or the first collection in a very nice hardcover. You can either try if for cheap or trust me and dive right in. I vote for trust me. Why would I vote against you trusting me?
Ok. One review down, infinite to go. That one wasn't so bad. I might have shared a bit too much about my proclivities but at least we got through it and now we are a little closer. It's your turn to share.
You took to long. I will review X while you think of something uncomfortable to share with me. X #0 is out. It collects all the Dark Horse Presents stuff into one issue. Old superhero book brought back from the dead. Pretty fun. Buy it. End review.
Got anything? No? Well keep thinking. I feel like our relationship is becoming more Doctor/Patient and less Mentor/Mentee every day, which is disappointing. I keep sharing things with you that make me agitated if I think about them. I am sharing too much. When I get uncomfortable I can't maintain eye contact and I constantly look at the door. I'm like a puppy on a dropped leash, always in danger of bolting into traffic. For the rest of this column imagine that I am reading it to you, monotone and drymouthed, but staring at the door the whole time.
They have made Judge Dredd comics in the UK for literally decades and only a handful of Americans ever cared. We are a self involved people at our best. Then they made a big budget nightmare of a movie and the ones that cared ended up caring a little less. Then they made more comics for 15ish years. The attrition of caring continued. Then they made another big action movie but this one was really good. Even less people cared about this movie then cared about the bad one. So, naturally IDW decided it was a really good time to start making Judge Dredd comics in America. My guess is the number of people who care about this book is in the high single digits. This book is some sort of proof of Zeno's Paradox of heading towards 0 fans. Soon only half of a person will like Judge Dredd in this country. But that is damn shame because it is really good. The British like their sci-fi comics in a very specific way; weird, morally ambiguous, and loaded with layers of nearly impenetrable lore. Americans don't like any of that. So the American Judge Dredd walks a fine line between faithful and dumbed down. It is tricky to pull off a story about a super violent cop with fascistic tendencies who is also the hero of the story, but Duane Swierczynski does a good job of making it palatable and still off putting, like it should be. If you have been looking for something out of your comfort zone but don't feel like wading through 20+ years of UK Judge Dredd then start with JUDGE DREDD vol. 1 out this week. Americans have a bad enough reputation as it is in this world, let's prove we can appreciate good things to our British friends once and for all.
Someone mailed me a pair of index fingers last week. I freaked out. I assumed that Tech Wizard/Human Prey, Tyler, had been taken in by some kindly old stranger only to be met with a few excruciating days of torture and finally the sweet release of death. Tyler was always too trusting. And now his sick captors were trying to lure me into their game. Anyway, I ended up having some DNA tests run though and it turns out the fingers aren't Tyler's at all. I totally forgot that I bought them from some weird German dude on ebay because he gave free shipping. Oh well. No idea where Tyler is. I guess I will continue to put the Weekly Planet together myself. Hopefully this time I remember to change the title. I feel like the biggest moron in the whole wide world when I forget to change the titles on my column. The absolute biggest, most worthless moron there ever was.
I think Jay Faerber is a really unappreciated writer in comics. I read the first volume of Noble Causes and hated it in a really fundamental way. I spend a lot of money on stupid stuff to make me feel better about myself temporarily, and rarely does it make me angry but Noble Causes did. Actual anger. Then I read an interview with Faerber where he spoke really well about the point of the book and for some reason I decided to reread it. Turns out he is much smarter than me and the book is really clever. It's a great pastiche of superhero and soap opera. After that I was hooked on Noble Causes and all his work since then. POINT OF IMPACT is his most recent, a mini series murder mystery that hits all the right notes. Beautiful art by Koray Kuranel adds to the overall moody tone of the book. There are not a lot of crime books on shelves these days so thankfully the ones we do have are worth your time and attention. Once you have read through Criminal, Scalped, Parker, and Murder Book, make sure POINT OF IMPACT is on your buy list.
As I write these words or as you read these very same words something remarkable and tragic is happening. Somewhere, someone is working really hard to tell an amazing, and personal, and beautiful story about love, or sadness, or aspirations, or death. Maybe it's about injustice, or righting wrongs, or the inherent beauty in honesty. Maybe it's about betraying the people you love, or watching people you care about suffer, or about the overwhelming power of bringing life into this world. They have the most beautiful and personal and universal book in the world and they just need it to exist. They are working night and day for years on it. They are putting more into this book than any audience has a right to deserve. They are working two jobs to be able to make this book. They are giving up freetime, then hobbies, then passions in order to see this through. Even when they manage to sneak away a few short hours to sleep they lay awake in bed thinking about their book. Dreams become nightmares, nightmares become hauntings. They are haunted night and day by their book. They lose all their money. They lose all their friends. They lose their physical and mental health. They lose the ability to see clearly why they needed money or friends in the first place because the simple burden of the story inside of them is becoming all consuming. It devours everything. Time. Then money. Then relationships. Then their ability to have relationships. Then, most brutally, it devours hope. They lose the ability to remember why they wanted this life. They begin to wonder what they did wrong to be cursed with the burden of this story. They forget the feeling of excitement of trying to get this story out and it simply becomes a tumor that they want so badly to excise. And just like that, the weight of comics breaks them. To create comics they must destroy their love of comics. They must destroy a piece of themselves. And then, when they are at their lowest they walk into a shop to find something, anything to keep them going. And they do find something. They find out that someone made a book about a raccoon soldier from space and his space tree friend. ROCKET RACCOON & GROOT COMPLETE COLLECTION is out now. This book is great. Comics are an awesome and cruel mistress.