In addition to our Ron Wimberly and Noku November events, Forbidden Planet will be hosting another day of shenanigans with Secret Adventures of Houdini artist Sean Von Gorman… this one even BIGGER than the one we threw in March 2012.
Don't remember that one?  Well here's some video of it to refresh your memory and/or acclimate yourself with the fellow.  *Please note that the following takes place moments before the fuzz tried to shut us down, as it often looks criminal when a man is chained to a city light pole.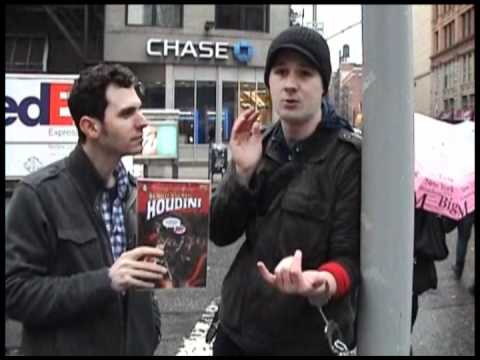 Wednesday November 21st (day before Thanksgiving) Sean will be caged (courtesy of humancages.com) in the front of our shop from noon until we sell out of the new edition of the book- signing copies for customers, performing tricks, taking abuse, doing interviews, running giveaways, and engaging all sorts of moderately insane tomfoolery.
Sounds like fun, no?
We'll be LIVE on and off from the shop throughout event on our YouTube channel if you can't make it and want to check in on our daring escape artist.  You can also pre-order signed books from our website for mail order.
If you are coming by be sure to get pick up a copy, have Sean sign it, and throw a plastic tomato at him for me!