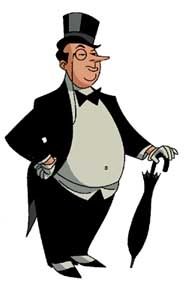 There's a dang great cartoonist from Canadiadiadia by the name of Jay Stephens.  AMAZING stuff. You'd really have to track his work down now…he's one of these talents who realizes there's more money in doing anything that's not comics. You guys probably know him best from designing/creating the TV shows "Tutenstein" and "The Secret Saturdays."
He USED to do a hilarious comic book called Sin, which was reprinted once as The Land Of Nod, which you can still find sometimes. ANYWAY…
In Sin #4 he has his plucky heroes read the latest issue of their favorite comic book only to discover it's been rebooted all grim and gritty. They properly proceed to throw it across the room with the word balloon "Pew, What a Reek."
Why bring this up, you ask?
Penguin Pain and Punishment #1 (of 5), Gregg Hurwitz, Szymon Kudranski, DC
Back when it was cool to be a villain with a shtick the Penguin was a top dog. Iconic and simple, he was a squat gentleman thief who used his trick umbrellas and penguin motif to escape from Batman time after time.
But the Golden Age is over. Now? From Tim Burton to Alan Grant, writers have struggled to make this character modern. Is he a mutant? A Fence? A Snitch? Is he crazy or sane, dangerous or campy? In all these variations only three things seem consistent. ONE) He wears a tux, topper, monocle and spats. TWO) He's got a big schnoz. THREE) He has parent issues.
SO GET READY for the bold new direction for the Penguin in the NEW 52 universe!  It promises Pain and Punishment! It will be crazy modern, to be sure. Continue reading →