Can your heart stand 12 solid hours of total terror? Can you bear witness to horrors you'll never forget?
Join Spectacle Theater for the 1st annual Spectacle Shriek Show
October 29th, Noon – Midnight!
8 features! Treats, scares, and surprises!
Only 25, handmade tickets available!
Only 5 tickets left!!!
$25/each! Bring blankets, pillows, coffee mugs, and heart medicine as you settle in for the most frightening marathon in the city!
SPECTOBER culminates in a crescendo of unrelenting nightmares!
Tickets available at the theater during regular hours beginning Saturday, October 15th! (Schedule of films announced on the 28th.)
555 // Wally Koz // 1988 // courtesy of Massacre Video
A hippie killer with a sex-fueled, murderous bloodlust is on a rampage and he's brutally murdering innocent young couples! A nationwide trend of killings with the same m.o. happens to catch the eyes of Detective Haller and Sergeant Connor. Every …five years, within five days of each other, the killer strikes! Now it's up to Haller and Connor to find out who is behind these grisly murders. Who is this crazed, blood thirsty hippie? And more importantly, what is the significance of the third 'five'?
Written by Roy Koz and directed by Wally Koz, this rare SOV splatter-classic has recently been given the royal treatment by Massacre Video with a DVD, special edition DVD, and an already eBay fodder clamshell.
I BURY THE LIVING // Albert Band // 1958
A new caretaker at the Immortal Hill Cemetery begins to believe he holds the power of life and death in his hands. Is it merely coincidence or are sinister forces at work?
A tense and atmospheric descent into madness starring Richard Boone (the voice of Smaug in the Rankin & Bass version of The Hobbit from 1977) and directed by Albert Band (Ghoulies II).
Trailer: http://www.youtube.com/watch?v=kCbWma91RKg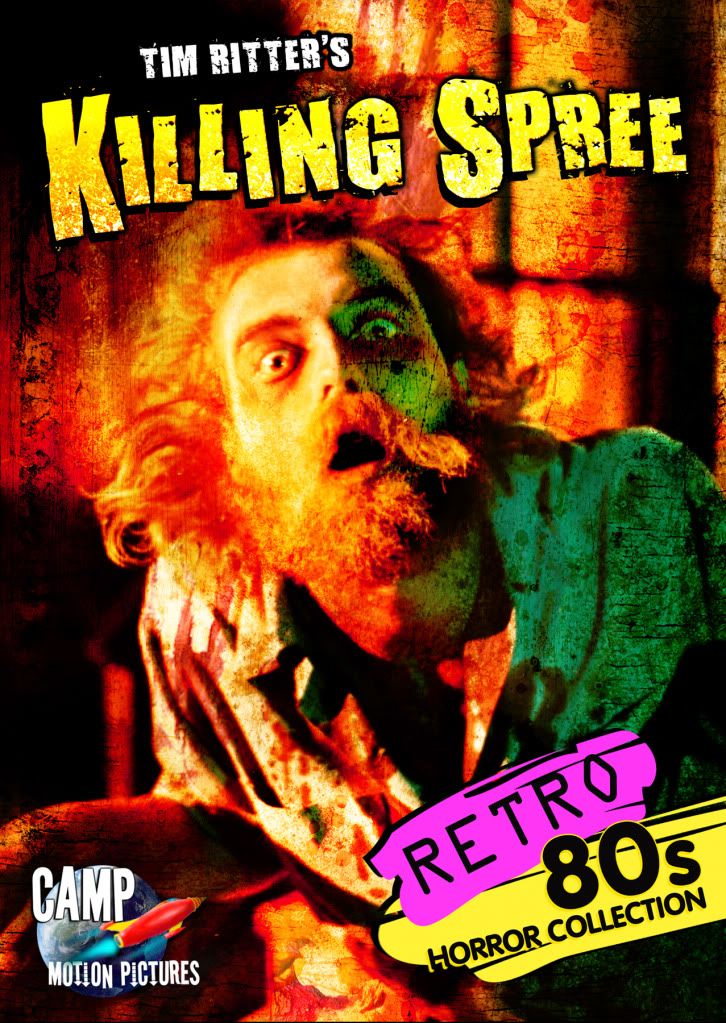 KILLING SPREE// Tim Ritter // 1987 // courtesy of Camp Motion Pictures/Alternative Cinema
Tom Russo (Asbestos Felt) has begun to suspect his wife of cheating. So he takes to the streets to get revenge in a myriad of horrible ways. No one is safe!
Tim Ritter is infamous for his outrageous, low-budget horror films including Creep, Wicked Games and Truth or Dare. His 1987 feature Killing Spree (1987) wallows in extreme violence, insanity and gore-soaked depravity. Part Henry: Portrait of a Serial Killer and part Pieces, it's a no-holds-barred glimpse into the mind of a paranoid schizophrenic and bloodthirsty psychopath – presented uncut and uncensored.
http://www.alternativecinema.com/
Trailer: http://www.youtube.com/watch?v=p3c1RNzs5RU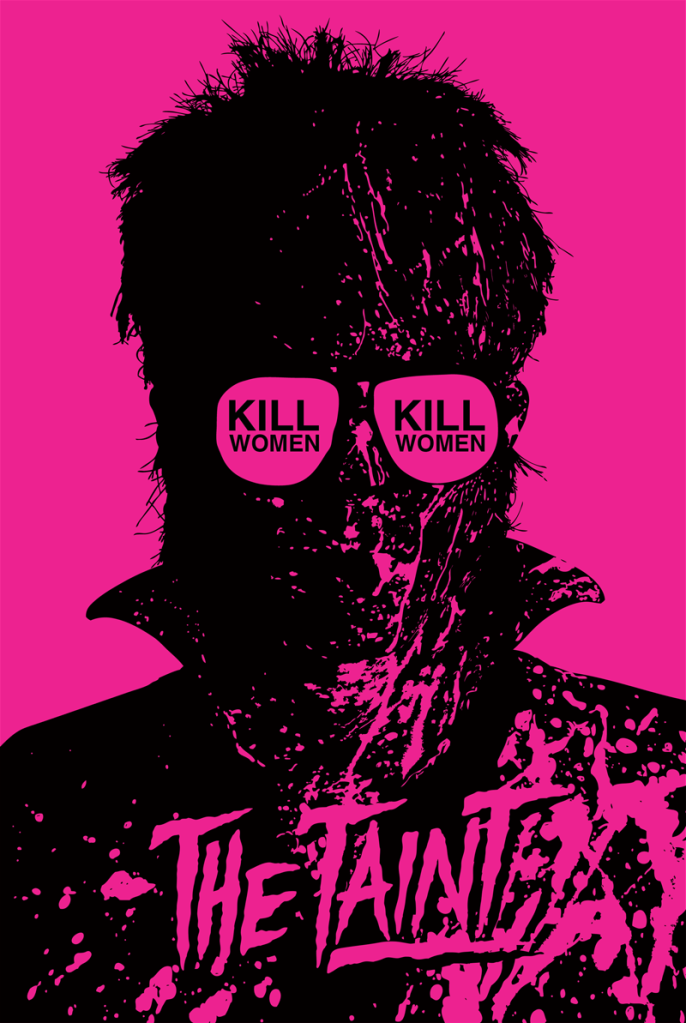 THE TAINT // Drew Bolduc & Dan Nelson // 2010 // courtesy of the filmmakers.
The water is tainted. THE TAINT poisons the minds of men. It turns them into raging misogynists: monsters who want nothing more than to KILL WOMEN. When society is transformed into a land of sadistic violence and horrible brutality, it is up to Phil O'Ginny and his female friend, Misandra, to combat the horrible evil that is "THE TAINT".
The low-budget independent film was made in Richmond, VA with the help of many incredibly talented local artists and Virginia Commonwealth University students. It is a testament to guerilla style filmmaking and a great example of what can be accomplished outside of the studio system with very little money.
Trailer (NSFW): http://vimeo.com/14400021
DARK NIGHT OF THE SCARECROW // Frank De Felitta // 1981 // courtesy of VCI Entertainment
When young Marylee Williams (Tonya Crowe) is found viciously mauled, all hell breaks loose in her small rural town. Officious postmaster Otis P. Hazelrigg (Charles Durning) leads a gang of bigots in pursuit of the suspect: her mentally challenged friend Bubba Ritter (Larry Drake). Finding him hiding inside a scarecrow, they exact brutal mob "justice"…only to discover a tragic mistake! Now a strange apparition stalks the land seeking each of them out, as the legend of the Scarecrow begins.
This once lost, made-for-tv creepfest has been newly restored and is available on DVD and Blu-Ray from VCI Entertainment.
Trailer: http://www.youtube.com/watch?v=lzJNgerwCdo
HERSCHELL GORDON LEWIS: THE GODFATHER OF GORE // Frank Henenlotter // 2010 // courtesy of Something Weird Video
Take an outrageous ride through this wild world of exploitation films with this thoroughly entertaining documentary, HERSCHELL GORDON LEWIS – THE GODFATHER OF GORE! Featuring cult director John Waters, Drive-In Movie Critic Joe Bob Briggs, Herschell Gordon lewis himself and a "cast of thousands," you'll witness the innocent bare-naked era of Nudie-Cuties before Lewis schocked the world with "Blood Feast," the first ever gore film! But that's not all – Lewis conrinued to assault audiences with such retro campy classics as "She-Devils on Wheels," "Blast-Off Girls," "Just for the hell of It, "Two Thousand Maniacs!" and the incredible "Wizard of Gore!" Experience a decade of motion madness – with tons of clips, rare outtakes testimony from the people who were there, and a rabid sense of humor – as HERSCHELL GORDON LEWIS – THE GODFATHER OF GORE leaves you laughing and screaming at the most amazing motion pictures to ever play American Movie theaters!
Available on DVD/Blu-Ray from the fine folks at Something Weird!
http://www.somethingweird.com/
Trailer: http://www.youtube.com/watch?v=JPRq77KmcUM
TALES FROM THE QUADEAD ZONE // Chester Novell Turner // 1987
Following "Black Devil Doll from Hell" Chester Novell Turner made one more foray into the exciting world of SOV horror. Tales from the Quadead Zone is that film. Shirley L. Jones returns to star in this three story anthology. As she reads each tale of terror from the tome to her ghostly son Bobby, the events unfold before her each more baffling than the last. Join us for an experience you won't soon forget. Far and away one of the rarest tapes around, Spectacle is proud to have this as part of our first Shriek Show.
DEEP RED // Dario Argento // 1975
A music teacher witnesses the grisly death of a psychic and becomes obsessed with trying to find the killer.
The 5th film written and directed by Dario Argento is filled with untrustworthy characters, red herrings, stylized violence, and a fantastic Goblin score. At times, cited as the best giallo ever made, Deep Red is as beautiful as it is ghastly.
Trailer: http://www.youtube.com/watch?v=62YqwaSMN4E