Maybe you're going to the New York Comic Con this weekend, maybe you aren't. IF you AREN'T, then I am sorry. I'm not either. Forbidden Planet is available to soften the blow with the very best in comic, manga, games, books, t-shirts, magazines and more! Why not pick up IDW's Mars Attacks Judge Dredd #2, or Shoalin Cowboy #1 from Dark Horse to pick up the spirits! If your eyes like a safer faire, dive into X-Men #6, Deadpool #18 or DC's Astro City #5 and Superman Wonder Woman #1?
But if you ARE going? Here's a fun treat!
Unkiedev's New York Comic Con Scavenger Hunt 2013!
"WOW, a fun scavenger hunt I can go on with my friends at the con?" That's right, anonymous stranger!  Take a picture of each of these items, post them to facebook or instagram with the #unkiedev and I'll send the winner a fabulous prize. Really, the point is NOT the fabulous prize (I mean, I've seen it…it's ok.) but the fun you'll have tearing through the convention like a lunatic experiencing the con like a sugar fueled lab rat!
25. PHOTO OF COSPLAY FROM THE NEW DOCTOR WHO.
Yep, the rumors are true, they've found several new episodes of Doctor Who lost to time in an Ethiopian garage. With the amount of showy Whovians about, and with this being the first big Comic Con since the episodes became digitally available, some cleaver cosplaying tardis rider will dress up as one of these new, obscure characters from the lost episodes. Get their photo online first and YOU could have your own viral photo!
24. PHOTO OF A STORM TROOPER AT THE URINAL.
I bet they even miss the bowl.
23.  PHOTO OF ROGAN JOSH OF MOD HERO.
Mod Hero is the sensational design label of comic book art featuring bold colors and a classic, space age design. They are the hard yet glorious labor of the brilliant ROGAN JOSH, artist extraordinaire. Do make your way to Josh's booth, #1577, where a veritable paradise of comic inspired prints awaits your approval. Bring him this write-up regarding his unstoppable awesomeness and I'm SURE he'll laugh. There you go, YOU made somebody happy today! Good for you!
MOD HERO! Come for the scavenger hunt, stay for the Hawkgirl pinup!
22.  A COPY OF THE CHUCKLING WHATSIT
Halloween is fast approaching, and this is one of Unkiedev's TOP RECOMMENDED creepy books to surl up with in front of a fire. Richard Sala's bizarre twists and spooky turns are playful yet deadly, cute  but disturbing. An investigator looks into the hand crafted keepsakes of a former serial killer who would braid his victims hair and skin into small, laughing dolls.
The Comic Con IS still about comics, you know?! It's a great place to track down fun back issues and obscure graphic novels you might not be able to fins anywhere else. Chuckling Whatsit belongs on the book shelf of any lover of macabre tales and haunted doings.
21. A HUGE PILE OF FREE CON SWAG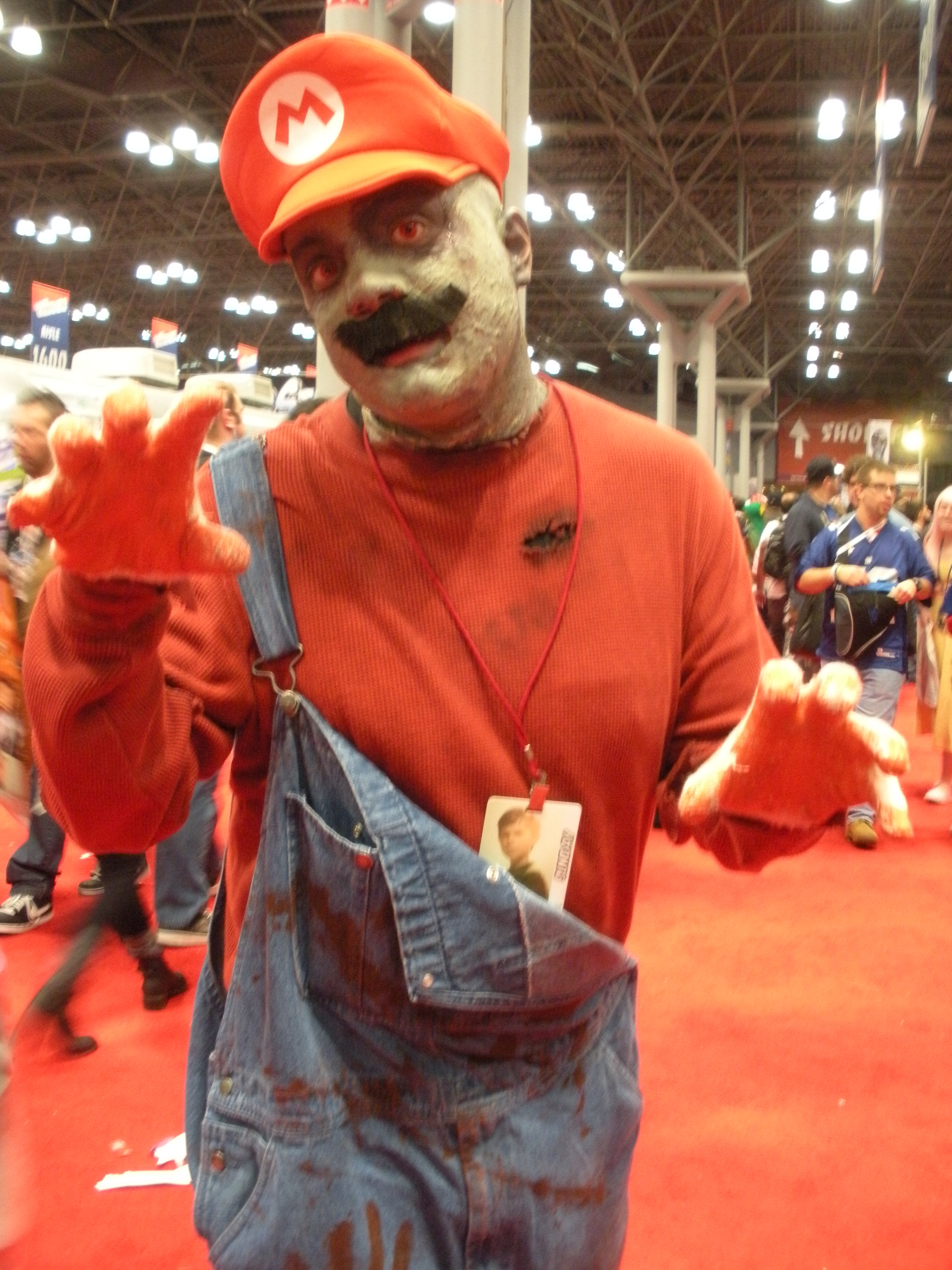 We all know that whoever dies with the biggest pile of free Comic Con swag wins, right? It's as true in this scavenger hunt as it is in real life. NOTE: Forbidden Planet is not legally responsible for wrongful death in the case of any fatalities as a result of this scavenger hunt.
20. PHOTO OF ELEKRTA KISSIG BIG DADDY FROM BIOSHOCK
Won't you help out a girl with daddy issues?
ENJOY
There's more where that came from, and you'll just have to visit the rarely updated unkiedev.com to find the rest of your New York Comic Con 2013 scavenger hunt items! Thanks for playing, and no matter if you are or aren't attending the con this weekend, make sure you have a great weekend!