The reviews are in! I was told this week that my column is mostly me "talking about yourself  for 2 pages and then recommending a book." While technically that is more of a synopsis than a review, the point still stands. I talk a lot about myself in this thing. There is a good reason for that though. I am a weirdo recluse who reads too many comics and can't relate well to other people. I tend to wall off my emotions for fear of burdening others with my problems and I put on a big, farcical parody show of my own existence so that people will like me. I do this by talking about myself too much. My only real friend in life is Forbidden Planet's Tech Wizard/Fresh Eater, Tyler, who I think hates me. I don't value my own ideas and opinions so I try and build myself up into this larger than life character that is always trying to keep people entertained. This is why I have and how I rationalize having a column when I feel this deep rooted personal inadequacy. It's a shell game, a distraction, using humor and long-winded anecdotes to keep people at arms length so they can't realize that I don't really have anything of substance to offer them. Thanks for bringing that up. Your criticism (synopsis) has been taken to heart. So this week we are going to TRY SOMETHING NEW. I am just going to write about some comics and remove myself from the dialogue entirely. I am bringing the integrity back to this column, this store, and comics journalism everywhere. I apologize for all the minutes of your life I have wasted with my sad, self aggrandizing charade and I hope you, my loyal-ish readers, will appreciate the new format.
First review: FIVE WEAPONS is a new 5 issue monthly comic book mini-series. FIVE WEAPONS is published by Image Comics Inc. FIVE WEAPONS is written by Jimmie Robinson. FIVE WEAPONS is pencilled by Jimmie Robinson. FIVE WEAPONS is colored by Paul Little. FIVE WEAPONS is lettered by Jimmie Robinson. FIVE WEAPONS is 32 pages, including ad materials. FIVE WEAPONS is full color, printed on 70 lb. low gloss stock with self cover. FIVE WEAPONS is rated T for Teen. FIVE WEAPONS is the story of a boy who is not properly equipped yet still attends a school for deadly assassins. FIVE WEAPONS is a spinoff of Jimmie Robinson's semi-popular BOMB QUEEN series. In recent years Image Comics Inc., the publisher of FIVE WEAPONS, has had a higher than average success, rated against other independent comic publishers over the same period, of launching new intellectual property. Often times first printings of Image Comics Inc. #1 issues sell out at the distribution level and yield an average appreciation of 221% on the secondary market within a fiscal year. It is speculated that Image Comics Inc.'s sellout issues and surrounding media attention are, in part, based on the companies refusal to print overstock beyond the initial orders placed by Diamond Comics Distribution LLC at time of F.O.C. This leads to what some analysts deem to be an artificial scarcity that could be creating a "false" appreciation in value. The sustainability of that appreciation outside of the "speculation bubble" is based, in large part, on the intellectual properties options being picked up for development in a secondary medium. At the time of this writing FIVE WEAPONS has not been announced to have been optioned. Image Comics Inc. has recently stated that they are changing their policies in regards to overstock printing. How this will affect the secondary market for upcoming titles remains to be seen. Consumers looking to purchase a new story about superpowered assassins or looking to invest in a new property with sizable fiscal growth potential would do well to purchase FIVE WEAPONS #1 on or near Wednesday, February 27th.
Blaaaaaah. Barf. Snooze. The new format sucks. Integrity be damned. Actually just talking about books is boring. Sorry. We are going back to the old format of me talking about me talking about books. Sorry if it bums you out anonymous reader, but I don't get paid to do this so I am beholden to no one but myself. Say it with me crust punks on St. Marks Place who only come to Forbidden Planet to try to charge their cell phones- "No gods! No Masters!" I might up the ante here and talk about me talking about me talking about books. I may already be doing that. We are getting meta here. I might pull a Grant Morrison and start making appearances in the comics in my columns. I might start lying about what the comics are about. I might start reviewing books that only exist in my head. Next week's column is going to be called TRY SOMETHING THAT DOES NOT NOW NOR EVER WILL EXIST. It will serve no purpose other than to amuse me and abuse you, disloyal reader. And when I see you stop reading it in disgust in the store I will match your disgust with my own and I will follow you home and read it out loud to you until you beg me to stop, until you vomit. Who is the narcissistic self obsessed weirdo now, huh? Ok. Now let's get back to sort of talking about comics.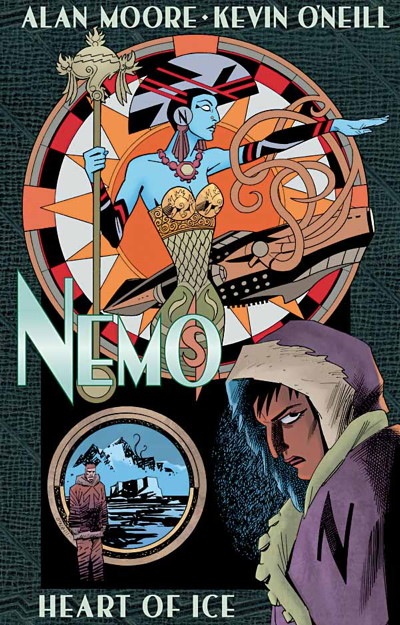 Alan Moore has two new books out this week. The League Of Extraordinary Gentlemen spinoff NEMO and the re-release of photo/literary biography of famed occultist/comic writer Steve Moore, UNEARTHING. Buy both of them or don't tell people you like comics.
I am going to cram a three-fer of Marvel books into one paragraph. Why? 2 reasons. 1. When I post my reviews of Marvel books Marvel staff don't ever tweet or post about it. They are too busy "complaining" about Bleeding Cool talking about their books to bother to support small blogs of large comic book stores (not bitter). 2. But these books are something new from Marvel though so I should be covering them and you should be giving them a chance. The compromise? Less column space. First up- GUARDIANS OF THE GALAXY #0.1 (Oh WTF Marvel?!? What the Holy #&<@ is that? Use whole numbers!). Guardians is a funny one. A few years ago Marvel couldn't pay you to give a $#!% about their "cosmic" books even though they were, for the most part, very good. Then they decided to make a Guardians Of The Galaxy movie so they pumped a lot of money into telling you you like Guardians Of The Galaxy and you believed them. Lucky of all of us the new book is really good. Successful cultural brainwashing! 2. ULTIMATE X-MEN #23 (A whole number! Yay!) Ultimate X-Men has been a Bermuda triangle for brilliant comic writers for years. Bendis, Millar, Vaughan, Kirkman, Carey, etc have all done some of their worst work there. For some reason Brian Wood didn't notice this and launches his brand new arc this week. It isn't just the best Ultimate X-Men has been, this is some of the smartest stuff Marvel has published in years. Read it. 3. X-TREME X-MEN Vol. 1: XAVIER MUST DIE. Marvel's EXILES book was a brilliant and fun way to turn nobody characters into compelling leads. It worked well because the throw-away nature of the characters meant that the stakes always felt higher and the characters and writing reflected that. Marvel basically relaunched EXILES but wanted a much worse name that reminded us of awful 90's comics, Mountain Dew, and rollerblading. Hence; X-TREME X-Men. Despite their best efforts to make something unappealing this book is quite fun. If it goes on long enough and writer Greg Pak is allowed to cut loose and chart his own course this book could be something worth really cherishing. It is off to a great start.
BART SIMPSON #80. The shocking "The Death of Bart" storyline wraps up in this issue with a brutal and heartbreaking conclusion. Bongo has done a great job of making Bart's descent into the murky underworld of Springfield's drug and human trafficking rings feel visceral, frightening, and most of all compelling. Bart is a real character pushed too far and the things he has had to do, while not morally acceptable, are understandable to the reader. He has made himself a pariah, but he has also made himself the last honest man. Much like Hamlet, when you started reading The Death of Bart arc you knew it had to end with his murder, but it doesn't make it any less harrowing. When Bart finally meets his end the tragedy of the moment comes with something else, a palpable sense of relief that a life lived too hard can finally come to rest. Like the gun barrel he slowly puts in his mouth, we as readers are now participants in a crime that is equal parts heinous and catharticly beautiful. And, in Bart's passing, Springfield itself dies a little too. When his limp body, battered, broken, and abused, is pulled from the river, for the first time in years we see Bart as the child he always should have been but never could be. And as the stonefaced residents watch Marge breaking down and clawing at her own skin, each resident of Springfield knows their role in the death of a boy who never stood a chance. Bart has always worked well as a metaphor for the working classes struggle to define itself and for America's ability to cannibalize it's own young for the sake of some poorly defined idea of progress. In that, the death of the last boy in Springfield, USA is the death of us all. A beautiful and tragic conclusion to one of the great cartoons of all time. Ay Caramba, Bart. Ay Caramba.
Valiant's stunningly good relaunch continues with BLOODSHOT Vol. 1: SETTING THE WORLD ON FIRE. An inverse of Captain America, Bloodshot is the story of a government super soldier program gone horribly wrong. The Valiant books are as smart and pretty as almost anything at the Big 2, but the fresh characters give the stories a chance to cut loose and provide twists and turns you won't see coming. X-O Manowar and Harbinger have already released their first trades and are fast becoming fan favorites for the superhero set and I expect Bloodshot to follow suit. For anyone who feels like some of their "people punching people" books have started to become stale, Valiant is trying really hard to give you a fresh alternative. And at $9.99 for the collection why wouldn't you buy it?