"Seconds" is the third comic from creator Bryan Lee O'Malley.
"Seconds" follows Katie, the chef/auteur creator of the best restaurant in the city, Seconds. She started the restaurant with all her friends, who have all since moved onto other ventures while Katie remained. With all her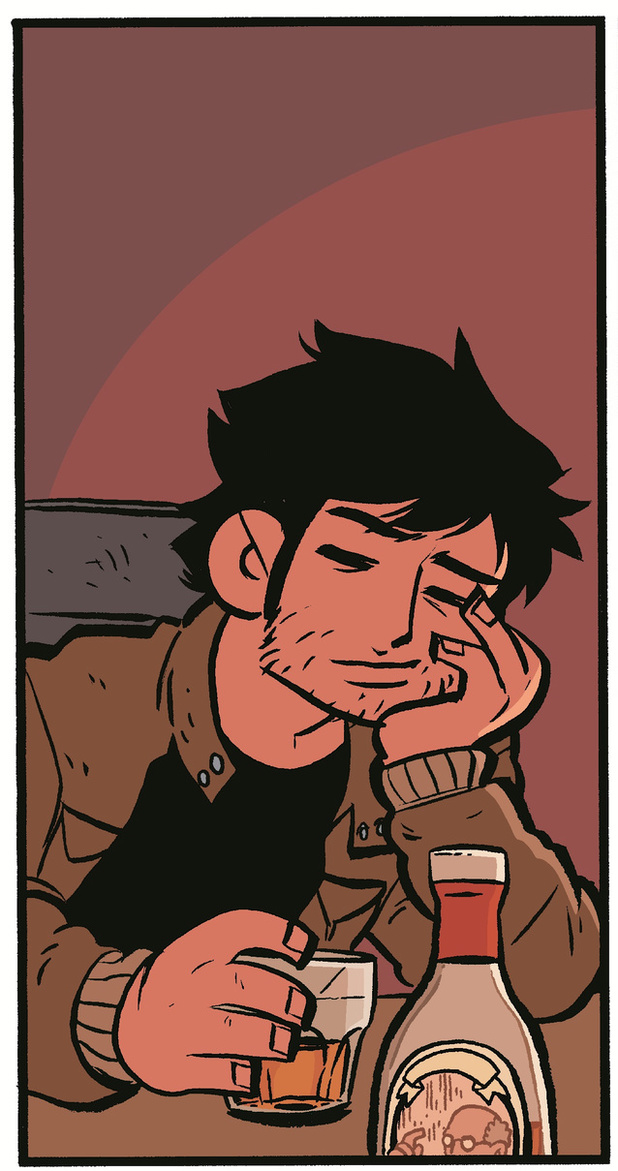 friends gone, she dreams of opening a new restaurant called "Katie's," with the excuses that the name fits on the pre-existing marquee of Lucky's, the dilapidated building she bought to house her new endeavors.
Alright enough synopses, let's talk formally. Second's is by far the most well-crafted comic O'Malley has ever put out. The quality of cartooning and world building is top notch, something clearly O'Malley has a knack for as he's shown us over the course of his career. The inclusion of color at the onset of this project (as opposed to the post coloring of Scott Pilgrim (which is colored by Nathan Fairbairn the same fella who colors this book)) keeps the work from being disconnected, or rather that one of the balls could drop in the perpetual juggling act that is making comics. That formalism aside, Fairbairn is a truly incredible colorist who fits O'Malley's work like you're dad's old flannel you stole from his closet.
The most impressive thing (from a cartoonist's point of view possibly…) may be how well O'Malley pulls off collaboration with three different creators on a book sold by his name alone. Having the drawing assistance of Jason Fischer and letters by the great Dustin Harbin is inspired. All too often, comics fall apart simple because the people collaborating on the project don't completely synchronize into one vision. Writing can be great, drawing superb, but for whatever reason the people working together just don't (man motions with both hands coming together with his finger's interlaced). "Seconds" however does not suffer from this in the slightest. The "O'Malley Studio" syncs up without a stich to be shown despite being able to see the difference in drawing styles of Fischer and O'Malley, or the craftsmanship of Harbin versus the looser brush style of O'Malley.
The characters carry three dimensions though interestingly are not characters we all know. That is to say, they aren't caricatures, you may know people in your life that are say a "Max or Katie Type," but they have some many affects to their personality you would forever need to temper the phrase "Oh you're toooootallly a Katie" with "Except you don't yadayadayadayada."
One issue I have with this book, that many disagree with me on, is an inherent issue I find with every comic that is attempting to be "novelistic." O'Malley has said that he wanted this comic to be more like a book, hence I'm assuming the choice to have it put out by a book publisher as opposed to a comic publisher, though I'm sure distribution and money always play a heavy role. The issue I'm writing about is the extreme use of narration and exposition. The use of text is heavy, with little use of simple pictures being used to tell parts of the story. It falls into a category of comics that almost come off as "Learn How to Read Comics" or "Comics For Normal People." An example being Alison Bechdel comics, where in the text is so heavy that the pictures rarely have a chance to shine. This argument is not to discredit the amazing and forward thinking work Bechdel and O'Malley both create or the moot argument of "Why Not Just Make It A Prose Book?" These people are cartoonist and they are telling the stories they want to tell in their medium, that's not the issue. The issue is why not use the pictures More? There is scarcely an action that isn't also accompanied by text describing what is happening. I can understand O'Malley's want to be more novelistic in his approach to comics making but find it a lost opportunity to push the his own story-telling style where-in there is not just the surface quality of the picture making and the interesting story he threads for you, but also a more personalized vision of digestion. For the intricate Groundhog's Day story that "Seconds" is there is little in the way of interesting Visual Story-Telling.
That very personal critique aside, (sorry everyone) Seconds is well worth your time. O'Malley is a supremely talented individual whose work remains consistently strong and consistently gets stronger. Go get Seconds so you cannot wait for his next book.