I've taken up the ancient art form of origami as of late, and between creating lotus flowers, cranes, and tie-fighters, I have learned the power of creativity, dexterity, concentration, and the overwhelming urge to set all pieces of decorative paper on fire out of sheer frustration.I'd like to think there's a metaphor for life somewhere in there, but I'm too consumed with rage to see it yet.Anyways, this books will calm me down…
Rust Vol 3: Death of Rocket Boy by Royden Lepp-Like a steam punk gateway, this beautiful and fantastical world has created a world that's full of robots, family struggles, and jet packs. Life was forever changed for the Taylors, when Jet Jones and a decommissioned robot from the alternate universe World Wars crash land on their farm. Lepp has spent the previous two hardcover volumes building up family secrets, sacrifice, and robot action that will all come to a head in this penultimate book of the series. This book seriously is all ages, because I've recommended to readers of any age, and no one is disappointed with the action or the heart that sits at the core of these books.
Manifest Destiny Vol 1 by Chris Dingess and Matthew Roberts–
History and giant monsters collide in this take on the REAL story of Meriwether Lewis and William Clark! Especially pertinent to us Washingtonians, or anyone who enjoyed a rousing CD-Rom game of the Oregon Trail, the journey to discover the Pacific Ocean is historical, but the truth is what will make this story legend. Wild monsters, infection, betrayal, and help from the French and Native Americans drive all first six issues of this collected edition. The American frontier is a dangerous place, I suggest using this as a guidebook for your journey.
This One Summer by Mariko and Jillian Tamaki– Summer is not officially here, but the memory is always present. Fires, camping, jumping in lakes, back sweat, booty shorts. If you've been missing any of the above, This One Summer, might help alleviate that. Possibly with less booty shorts than my summer, the one written and drawn by Mariko and Jillian Tamaki does capture the youthfulness of summer nostalgia, and then wrecks it. Rose and Windy are best beach buds, and have always looked forward to spending their long days doing what kids do best. But things have gotten rough between Rose's parents, and Windy and Rose look for a distraction that ends up getting them involved in the even bigger problems of some older local kids. This might not have been the summer they dreamed up, but it's one they'll never forget. Cousin duo, the Tamaki's, produce tween angst against artwork that has a beautiful flow.
Rogue Trooper Classic #1 by Gerry Finley-Day and Dave Gibbons– Did James Stokoe's covers on the new Rogue Trooper series make you wonder where all these badass blue warriors came from? Wonder no longer! IDW is bringing the original comics from 2000AD, created by Gerry Finley-Day and Dave Gibbons, back to life in fuuuuullllll cooolooooooorrrr. The war torn future is rife with chemical weapons and warfare, and the only ones able to fight the fight are the genetically modified infantrymen. These are the tales of one such Genetic Infantryman, Rogue. One part Full Metal Jacket, and one part Fallout, this classic series will feature appearances by Judge Dredd, who will feel right at home in the war ravaged Nu-Earth.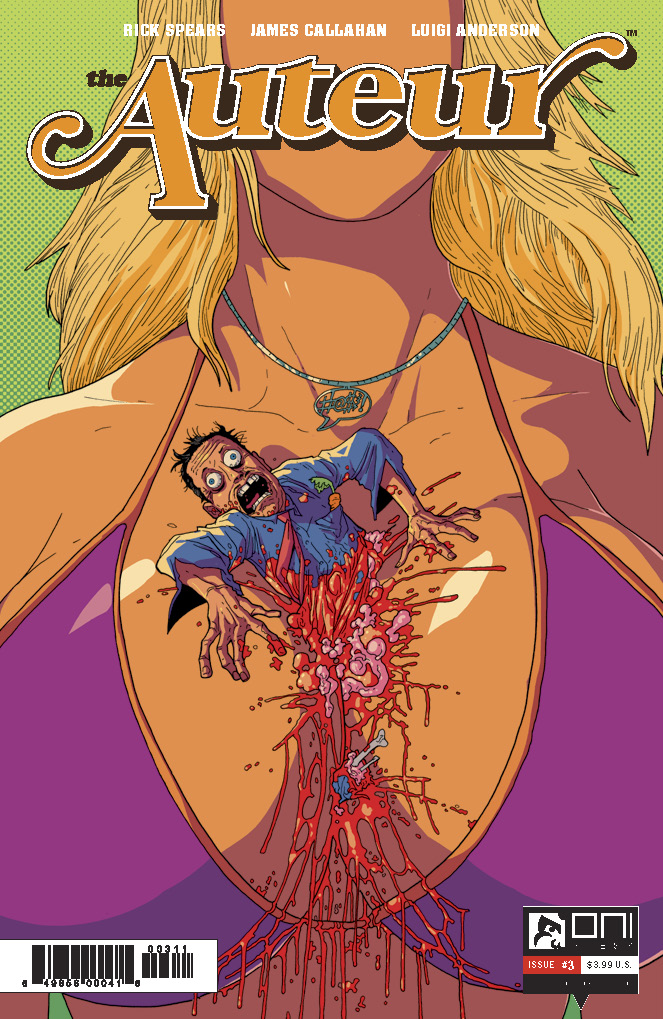 The Auteur #3 by Rick Spears and James Callahan– I know I mention this book every week, but I don't STOP mentioning it because it's LITERALLY THE BEST THING EVER. If I haven't convinced you at this point to read a book that's about a psychotropic drug rampage through Hollywood and your own mind, on the quest to create the most realistic horror film ever, then I haven't been doing my job and I might as well jump off a cliff. (I also use the term job loosely because I have yet to receive as much praise and adulation and keys to cities and babies presented for healing kisses, as my words deserve)