It's Like Some Wonderful Dream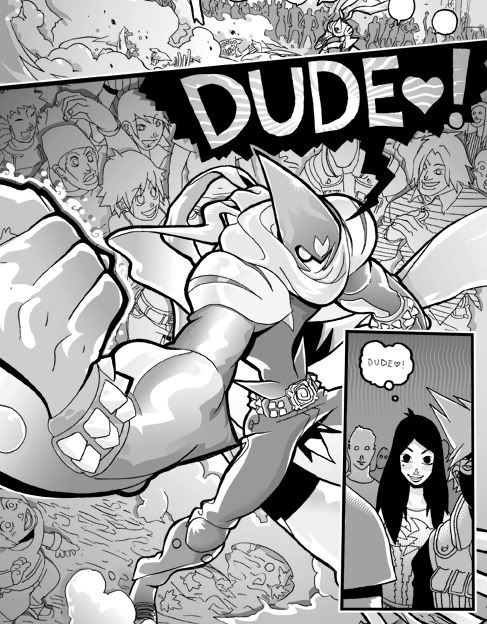 A few books that were, cosmically speaking, never supposed to see print will be released in the next couple of weeks, giving everybody a chance to get lucky with some amazing reads. While we're at it, NOW would be a good time to buy a lottery ticket, apply for a job you aren't, strictly, qualified for and confess your love to a distant crush.
If these comics are finally being released then GOD must have decided to cut all of us a break. Time to push our luck!
SHARKNIFE VOL 1 & Vol 2, Corey "Rey" Lewis, Oni Press
The 2005 first edition of Oni Press's head turning manga, Sharknife, has an ad in the back promising that Sharknife Vol. 2 would be out in the fall of that year.
It is finally being released this week, as well as a reprint of the first volume. What is this book, why was it so delayed and why should you care?
Corey Lewis is an annoyingly cute cartoonist with a fantastic, frantic style amped up to 11 on energy drinks and pixie sticks. His work is so hip it has to wear a MuuMuu to be comfortable. He's done some work here and there, most noticeably in UDON's Street Fighter and Rival Schools titles. He had a fun graphic novel out many moons ago called Peng, about (and remember I did warn you about the hipsterness) a winner-take-all kung-fu ninja Kick-ball tournament.
He lives in Seattle and freely admits that he dropped the ball.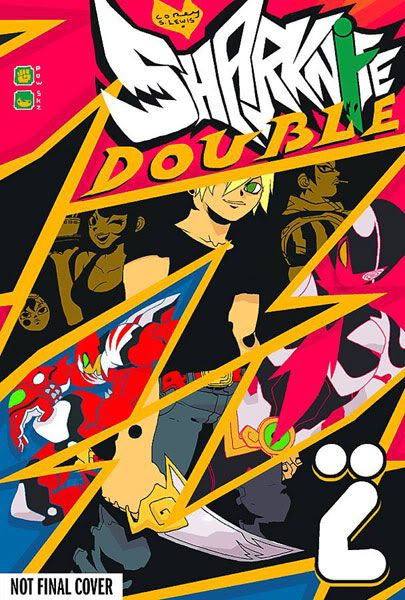 Sharknife was an impressive debut book for the then 22 year old Lewis. Followers of Scott Pilgrim would find the tone and material familiar…Lewis and Pilgrim's creator Bryan Lee O'Malley were good buddies and positively influenced each other's work. Lewis stated that, after his debut, he let down his productivity because he thought he had his foot in the door…only to realize that the job was about sustaining momentum, NOT breaking in.
The book focuses on a busboy at a funky Chinese food restaurant constantly under attack from video game monsters. The protagonist can transform into Sharknife, the spikey elbowed brawler who beats these beasties back to win the love of the Owner's daughter.
It is LESS romantic than Scott Pilgrim, with FAR less angst. It does come off as more fun and genuine. If you like romance, video games, fighting, noodles, monsters slick cartooning than Sharknife is a must read.
FLEX MENTALLO: MAN OF MUSCLE MYSTERY, Morrison/Quitely, DC
Kirby/Lee, Moore/Gibbons, certain comic book pairings are synonymous with classics. With a hit parade including We3, All Star Superman, and The New X-Men, Grant Morrison and Frank Quitely are Scotland's entries to the comic book hall of fame…
And their first work together has NEVER been reprinted since its debut in 1996.
Flex Mentallo is a Charles Atlas knock off who attracted the legal ire of that muscle bound purveyor of exercise instructions. Once Morrison and Quitely became THE hot team, copies of Mentallo reached astronomical prices online. Ubiquitous torrenting became the only way to read this title…until now. Or soon, really.
A deluxe hard cover of Flex will be printed on April 10th, giving all a chance to see what they've been missing out on. What can they expect?
Mentallo is a strange, disturbing romp through comic's silver age past, a love letter to the power of imagination and about as understandable as the ending of 2001: A Space Odyssey. It is NOT for casual Morrison readers…If you thought Sea Guy wasn't "your thing," don't even THINK ABOUT Flex Mentallo.
If you like your Morrison on the weird side this book is the Holy Grail, presented in a beautiful deluxe hard cover edition for your enjoyment!
"You can't always get what you want" goes the song, but pretty soon you can get something EVEN BETTER than your craptastic desires. New editions of Sharknife and Flex Mentallo?! I better check to see if I'm pantsless, eating gummi bears at my old High School, because this seems like a strange dream!
——————————————————————
More musings from Unkiedev, Earth's own sidekick, can be read at unkiedev.blogspot.com