Thursday November 17th "In The Living Flesh" In-Person Meet-and-Greet at Forbidden Planet!

In-Person Meet-and-Greet Thursday November 17th, 7:30pm at Forbidden Planet
followed by In "The Living Flesh" Live November 20th at Santos Party House in New York

Two New Videos in Production from New Album "In The Flesh!"
What: Nader Sadek "In The Living Flesh"
When: November 20th, 2011 (7pm SHARP)
Where: Santos Party House (96 Lafayette St. New York, NY)
Admission: FREE
Players:
Steve Tucker (ex-Morbid Angel) – vocals
Rune Eriksen (Ava Inferi, Aura Noir, ex-Mayhem) – guitar
Flo Mounier (Cryptopsy) – drums
Novy (ex-Vader / ex-Behemoth) – bass
+ introducing young talent Sean Frey on lead guitar and a surprise Female vocalist!
In support of his debut full-length album "In The Flesh" released this Summer on Season of Mist, Egyptian-born, New York-based visual and conceptual artist Nader Sadek has announced the details of his first ever live appearance following the album's release taking place November 20th at Santos Party House for FREE in New York City.
With stage design that resembles a Wagnerian Opera, Nader Sadek seeks to take the death metal experience to new heights, as he is set to perform the new album "In The Flesh" live in its entirety alongside the production team behind the album. Upon entering the space, The Audience is invited to view all of Sadek's works on and off the stage, each attendee will be given "pamphlet" describing the evenings 3 acts. People can expect more than several props which are recognizable from Sadek's recent videos, such as glowing sulfuric crystals, caves, thrones, and a "elaborate setup for the drums." The show will feature a lengthy overture by a masked surprise female vocalist performing inside a mirrored cube, guitarists enveloped by a web of vines and more. Part Opera, Part Art installation. And All Metal. Conceptually, the theme behind the album, will manifest itself in the live setting, petroleum, man's greatest discovery and tragedy will embrace the composition of the visual and aural assault. This is a minimal description of what is to ensue on stage during the live slaughter of IN THE LIVING FLESH, which will finally bring Sadek's concept behind his new album to life. The performance will also be filmed live.
On Novy's involvement, Sadek says:
What can i say? Of all the bands Novy has played in, the albums he is on are undisputedly my favorite. Coincidence? I think not. Bass is a very underrated, yet very important instrument, it can change the feel of a song entirely. It is definitely an important factor that Novy is also a songwriter, and understand the importance of composition within the structure of a song. His compositions within Dies Irae are very impressive. I'm excitedly to welcome Novy to the flesh!
Says Novy:
Ladies And Gentleman.
My name is Novy ,and I'm proud announce for you – I play with Nader Sadek.
It's a pleasure to play with great musicians in an amazing project like " In the Flesh."
Listen to the new album and this project , feel this energy and emotion and…
Move your black hearts to Nader Sadek's show on the 20th of November at Santo's in New York City
Stay brutal and see you on the show!!!
Novy
Sadek is well-known in the metal world for his impressively twisted sculptures, masks, and installations. He has created visual landscapes that have greatly enhanced the overall performance of bands such as Mayhem and SUNN O))). Sadek has, for the first time, ventured into the recorded music realm with his first album, In the Flesh. A collaboration between Sadek and some of extreme music's most talented artists, In the Flesh stands to be one of this year's hallmark metal albums. The album features a core band consisting of none other than Steve Tucker (vocals), Flo Mounier (drums), and Rune Eriksen (guitars). The massive album also features guest appearances by Attila Csihar (Mayhem, Sunn O))), Travis Ryan (Cattle Decapitation), Tony Norman (Monstrosity, Terrorizer), Mike Lerner (Behold… The Arctopus), Descructhor (Morbid Angel), and Nick McMaster (Krallice).
In the Flesh centers on the notion of humanity's relationship with petroleum and how this exhumation of ancient life forms serves as a self-destructive fuel to society's greed. The album was recorded in New York, produced by Sadek, and co-produced and mixed by Tucker. Fans can look forward to two new videos currently in production coming soon. In The Living Flesh has been fully funded and curated by Nader Sadek.
* Sadek along with the musicians Tucker, Eriksen, Mounier, Frey and Novy will also be taking part in a pre-event meet-and-greet at renowned comic book shop Forbidden Planet located at 840 Broadway in New York.
** Flier graphic image courtesy of Louis Konstantinou with art direction by Nader Sadek.
"In The Flesh" Album Concept
Nader Sadek invites you on a journey to the depths of the earth, where substances of a repulsive nature dwell. Beneath the earth's crust, over millions of years creatures have disintegrated and decayed until taking on ghastly new life as petroleum. Like a return of the undead, petroleum and its derivatives have wrought cross-cultural conflict, environmental pollution, and economic distress. With a visual and aural assault, Sadek's new work "In The Flesh" re-interprets petroleum's sinister insinuation into our everyday lives. Nine songs and a series of original drawings video works explore several aspects of the commodified resource we find ourselves fatally dependent on.
"In the Flesh" exploits the sonic links between death metal and gasoline-dependent heavy machinery such as automobile and airplane engines. These links shaped the process of musical composition itself: The album opener, "Petrophilia", kicks in with a sound evoking an engine starting up. Another song, "Of This Flesh (novus deus)", follows the sonic structure of a car shifting gears. While continuing to link musical composition to mechanical transformations, other songs depart from engine-based references. The outro to the album, "Nigredo in Necromance" which is already accompanied by a video, dwells on an individual's recognition that he must die in order to reunite with his deceased lover. The song riffs on the life-in-death of an oil-drenched society, as the lovers' reunite in their decomposition and rebirth as petroleum. This theme also drives the track "Mechanic Idolatry", which channels the uncanny thrust of Sadek's recent artistic output, as live human beings provide the fuel for machines transforming themselves into flesh.
* Nader Sadek speaks w/ The Village Voice's Sound of the City Blog, read the interview here!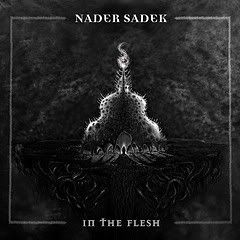 "In The Flesh" Track List
1. Awakening
2. Petrophilia
3. Of this Flesh (Novus Deus)
4. Exhaust Capacitor
5. Soulless
6. Rusted Skin
7. Mechanic Idolatry
8. Sulffer (video)
9. Nigredo in Necromance (video)
Watch the "In the Flesh : Sulphurus Edition" here!
For more information, visit:
www.nadersadek.com