Shiny Shoujo Versus Sporty Shounen— FIGHT!
By Shannon H.
Well, this week sure leaves me happy, since three of the six or so books that I'm actively collecting right now are making their appearance (anyone familiar with this column doesn't need to guess that means that among our new arrivals is the new Fairy Tail, Blue Exorcist, and Bakuman). For the rest of you, there's still Vampire Knight, the shoujo-horror book of the hour, as well as another one of those 3-in-1 collections for the mega-beast of a series, Bleach. Beyond all that, though, there are a few sleeper hits that maybe you guys should tune in on, just in case you're out trolling for something new to read.
In the boys' corner, we have Slam Dunk, by Takehiko Inoue, who maybe you've already read without realizing it; he is the genius behind the beautiful samurai epic, Vagabond. Bet you never thought that his other big titles were shounen basketball stories, did you (I know I didn't quite expect it!)? Both Slam Dunk, which has a new volume out this week, and Real, are high school basketball dramas, but they couldn't be more different! Slam Dunk is a more traditional shounen sports story; it follows a juvenile delinquent named Hanamichi who that gets recruited to his high school basketball team and, with a team of other misfits, helps bring the once-unknown team to stardom. Real, however, is a much grittier, darker, and kind of depressing tale about three men whose lives are touched by basketball and what the sport means to them. Buzzer Beater, a third Inoue basketball manga, is a bit more out of this world — quite literally!! This story chronicles a basketball team from Earth that competes on an intergalactic level, and though it has never been published in the States, it might be worth your time to hunt it down should you decide you are now a giant Inoue fan.
But no matter your taste, there is no question that all of these books are simply beautiful, as Inoue is probably one of the most skilled traditional manga artists working today. His line-work is particularly noteworthy, with incredible brushwork and crow quill detailing. Especially with his work in Vagabond, Inoue manages to capture what is beautiful about traditional Japanese brush painting and what is so quintessential about manga art. With sweeping, detailed landscapes, as well as incredibly detailed and precise action drawings beautifully juxtaposed to scenes of equal calm and tranquility, Inoue is practically showing off how versatile an artist and storyteller he is. And if, for any reason, you still don't quite grasp how amazing Inoue is, check out the lovely art books of his that came out a couple months ago. Then go look at the stunning murals he's painted on the walls at Kinokuniya, which is near Bryant Park. Then be amazed.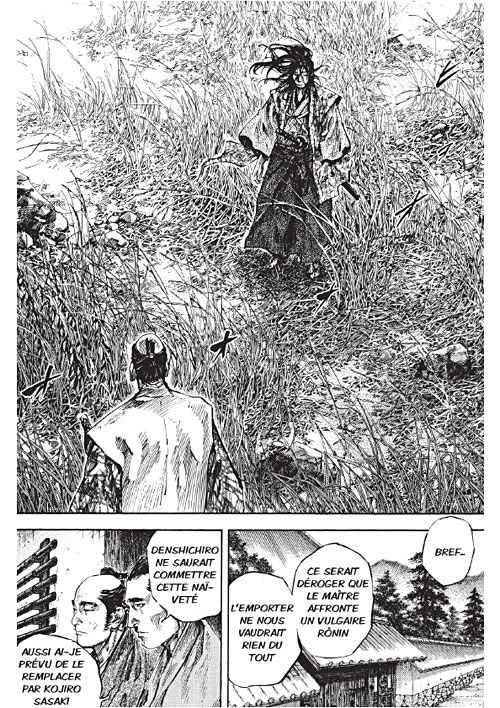 But wait, there's more!
In the girls' corner this week, we have a new volume of Sakura Hime by Arina Tanemura, a queen of manga in her own right. While Miss Tanemura perhaps doesn't rest on the laurels that other shoujo artists such as CLAMP might, she certainly has the chops to keep up with the likes of them. Her style, much like CLAMP's earlier work, is very much influenced by the styles that were popular in the late 1980's and early 1990's, and she has kept to it even as trends have changed. And that's a good thing, because sticking to her guns as an artist is part of what makes Tanemura's manga instantly recognizable in a sea of art that, frankly, all looks the same after a while (the grumpy old man in me blames computers for this. I shall add that Tanemura clearly is still of the old school, resorting mostly to Copic markers and paints, which makes the grumpy old man in me a little less… well… grumpy).