La Princesse de la Terreur
A-a-and we're back, manga fools! After last week's dryspell, the robot gods of Japan have taken pity on us and showered us with a giant pile of books to sort through this time. Among them are some real powerhouse titles like Naruto Volume 51, Bleach Volume 35, One Piece Volume 57, Vampire Knight Volume 12, Ouran Volume 16, Claymore Volume 18, and Bakuman Volume 5. Whew! That right there is already a cartload, and that's only just the beginning! If I could write about all of them I probably would, but I'm pretty sure that every FP manga customer is going to buy at least three of these books, so there's no need to remind you about things that you already know are awesome. Not this time around, anyway.
Instead, I'd rather take the time to blow up about things you didn't know were awesome but probably should. Specifically, Kaori Yuki and the newest volume of her latest gothic horror series, Grand Guignol Orchestra. Seriously, forget Vampire Knight; that's for wussies and little girls: Yuki's gothic horror is where it's at, and if you've read her most famous title, Angel Sanctuary, you know just what I mean. Her work is technically considered shoujo, and it's printed under Viz's Shoujo Beat banner, but that's mostly just because of the visual style and some of the more relationship-heavy plot points her work tends to carry. But around that, her stories tend to be incredibly dark and gory, certainly reminiscent of the Grand Guignol theatre from which her current manga takes its name.
For those of you who are not drama nerds like yours truly, you might not have heard of the Grand Guignol, which was a Parisian theatre that specialized in plays of terror and psychological unrest. The word Guignol itself also refers to the name of a famous marionette puppet from Lyons, France, an allusion that creates that double entendre the Japanese love so much, for that is the name of the mysterious virus that is transforming people into zombie dolls that are intent on killing all humans! Luckily, the Grand Orchestra, helmed by the beautifully handsome singer, Lucille, is more than just your average band of wandering minstrels. With their special skills, like Lucille's ability to use a tuning fork to change his voice into deadly sound waves, they travel from city to city, purging the Guignol they encounter — for a price, of course. Yuki is a pro at weaving twisted characters into twisted plotlines, so you can bet that everybody involved will be walking that fine line between the sane and the unhinged, but without that forced, over-the-top feeling that some manga can have.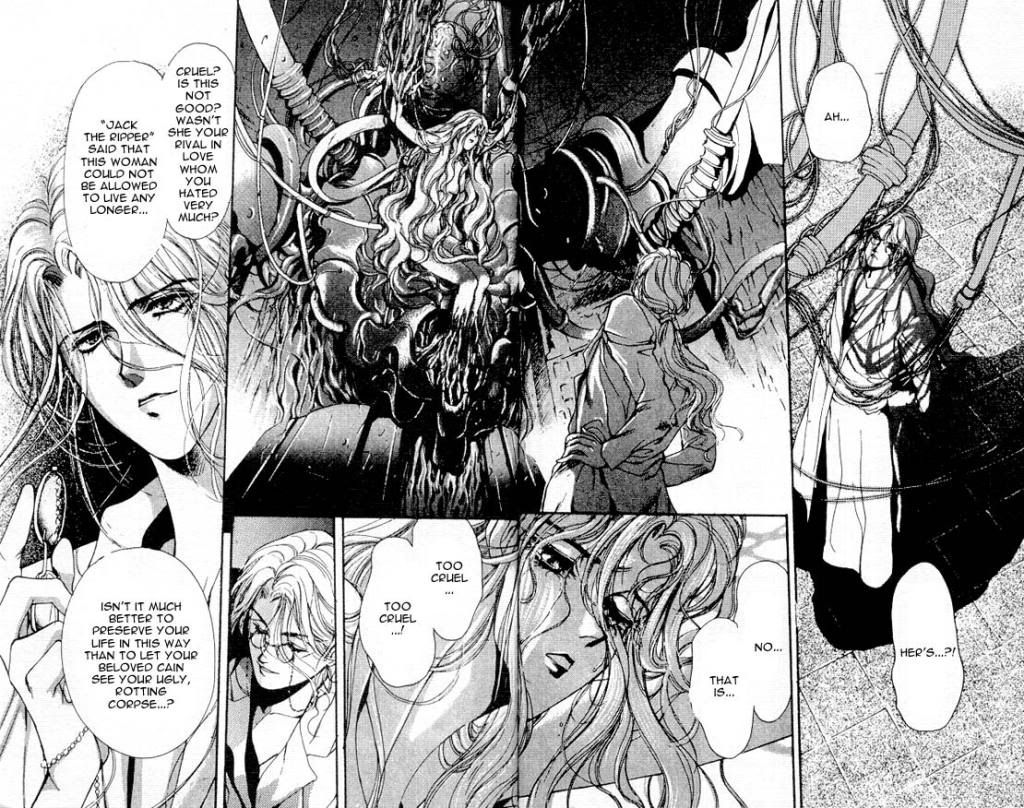 Unsurprisingly, I'm once again flailing about a book with incredible art. Yuki's artwork is some of the most attractive in manga today, especially in the shoujo genre. Unlike so many other shoujo books, her drawings are tight and lush, full of expressive faces and intricate costumes; it's reminiscent of the art found in the Gothic and Lolita Bible, only better. Her action sequences are also pretty shonen worthy, with tons of blood splatter and elegant violence. This combined with her layouts can Sometimes make her pages feel a little cluttered with so much to look at, but at least it's more akin to gorging on a ton of really tasty food than just a big, random pile of whatever.
And then, once you finish Grand Guignol and become obsessed with it, you can continue to feed your newfound love for Kaori Yuki with some of her other titles that can be found in English, such as the infamous Angel Sanctuary, the Cain Saga or Fairy Cube. If only the rest of them would get picked up here, because there are some wonderfully dark, messed up yaoi-filled things I'm dying to add to my library!