Morgan Pielli's Pile of Minis
Once more it is time for me to claw frantically into the pile of mini comics that traps me and to decide what to review. And so, under the watchful-yet-unmoved eyes of the assorted subterranean denizens of Forbidden Planet's basement, I give you: Pearly Whites by Phil McAndrew and Pig's Missing Poo by Robert Goodin!
Pearly Whites by Phil McAndrew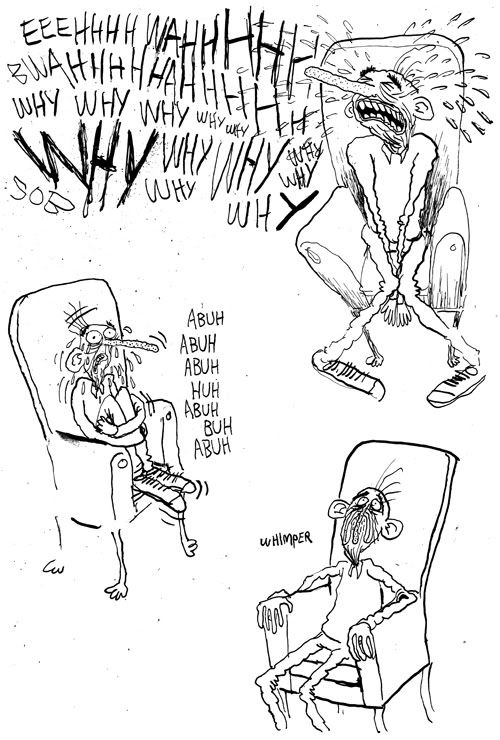 Phil McAndrew's wonderfully expressive comic Pearly Whites is the study of an old man filled with regret. Long ago, we learn, he was unfaithful to the love of his life. But with the appearance of a small and mysterious elf-like man, our protagonist is suddenly given the opportunity to prevent his greatest mistake. Of course there is a price, and the payoff to the story is hilarious.
McAndrew's line work is spare but expressive. This allows him to create lively, playful people that are rich with character without feeling overdrawn. Where I would normally complain about a lack of backgrounds, McAndrew skillfully pares down his staging to only the most important elements. A chair, a picture, and maybe a rug for the cat; his technique is economy-of-line at its best. There is a strong Gahan Wilson influence here, and it works tremendously well in the service of this surreal morality tale.
Pearly Whites is a gloriously twisted and weird story. It made me laugh out loud like an idiot by the end. I effing loved it.
Check out more from Phil McAndrew at PhilInTheBlanks.com.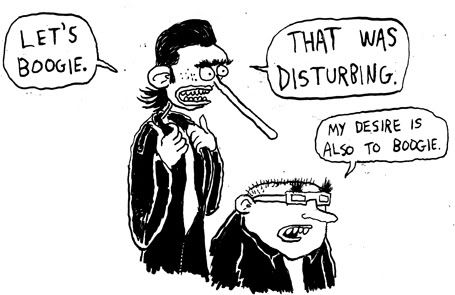 Pig's Missing Poo by Robert Goodin
Pig's Missing Poo is a collection of four stories by Robert Goodin. They have been collected from various points in the artist's career, yet they are of a consistently high caliber of draftsmanship. Goodin's skill with a nib (if I'm not mistaken) is enviable. He counterbalances sweeping, brush-like lines with intricate hatching. The action of his stories is always clear and thoughtfully composed.
"Seeds of Grass" is a simple back-and-forth between two characters reminiscent of George and Lennie from Of Mice and Men. The
story has a lazy Sunday afternoon quality as the men discuss, in an unhurried fashion, how one grows grass. Ultimately, this is a gag comic, and the thoughtful buildup sets up the punch-line nicely. That said I do wish the conversation had lasted a bit longer. There is something about the relationship between these two characters, Repeat and the Face, that I enjoyed.
"That's Life" is a single-page gag about a body-less head that yearns for exploration. Like "Seeds of Grass," this story is about a friendship (in this case, one newly formed) that takes an unexpected turn. And again, I found myself wishing that this story had been longer. The ending was funny, but it could have used more buildup.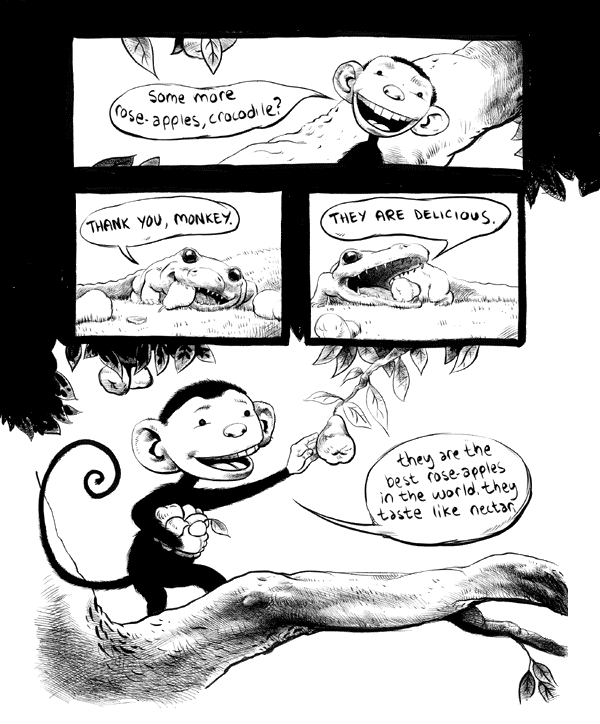 "The Lovely Evening Urbanus Met Mr. Thadeus Cornloaf" is another one-pager. It stars two of the most unique characters in a book brimming with unusual character design. Urbanus is a sad-sack of a man-torso; squat and round, who hopes that a drink will cheer him up. Goodin's character design perfectly encapsulates a person for whom every day is overcast and every cloud brings rain. Upon reaching the bar Urbanus meets Mr. Cornloaf, a jolly head atop a pair of legs who inspires Urbanus to celebrate life. Unfortunately, both men fall victim to the drink and the story ends somewhat abruptly. I loved the two characters, but like "That's Life," this would have benefited from giving the characters more breathing room.
Lastly, "The Monkey and the Crocodile" is a touching parable about an unlikely pair of friends who are forced to make a difficult choice. This was the only non-gag story in Pig's Missing Poo, and it is my favorite. This is not so say I don't love comedy; far from it. It's just that Goodin does such a great job exploring existential and philosophical themes; it's sometimes a shame when that is cut short for a gag. The relationship between the monkey and the crocodile is at once heartwarming and heartbreaking. It is a tremendous way to cap off a great collection.
You can find more at RobertGoodin.com.
——————————
Morgan Pielli posts new comics to his website IndestructibleUniverse.com every weekday. He will be in Brooklyn this weekend at Pete's Mini Zine Fest. Stop by his red table and say hi!