Jeez, don't you think Alan Cumming looks just like the Green Goblin?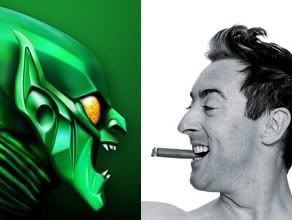 Good thing, because he will be playing Spider-Man's penultimate nemesis, Norman Osborn in Julie Taymor's Broadway show, "Spider-Man: Turn off the Dark." Also announced with Cumming, via press release, Evan Rachel Wood (currently starring in Woody Allen's "Whatever Works") will be playing the Wallcrawler's love, Mary Jane Watson.
The Broadway show, written and directed by Julie Taymor has worked with the two stars before.  She recently directed Cumming in the yet to be released "Titus" and Wood was her star in "Across the Universe," with music and lyrics by Bono and the Edge the show is sure to be a blast.  Said Taymor:
Across The Universe was my first opportunity to work with Evan Rachel Wood– and it was a sublime experience. Evan is unique: she is a young actress with incredible depth for both serious and comic drama in films and theater, and on top of that, she has an extraordinary lyrical voice. We are thrilled to have her as our Mary Jane.

Julie Taymor is thrilled to be working with Alan Cumming again. "I obviously love him as this is my third collaboration with Alan – and finally we get to do it on stage. He has such range and such charisma as a performer that I feel confident his Green Goblin will bring many surprises that will move and entertain us."
Frankly, these casting choices are outstanding, now if only we can get Wood to replace Kirsten Dunst in the movies we'd be getting somewhere. And Cumming has worked in comic book related live action by playing Nightcrawler in "X2: X-Men United".  This is sure to be a blockbuster production and tickets are on sale at Ticketmaster, but at a hefty price tag of $135 on the low end.
Spider-Man: Turn off the Dark, as its called, premieres at the Hilton Theatre, Feb. 10, 2010.
Source: Evan Rachel Wood and Alan Cumming to star in Spidey Musical [via CBR].