Viz Media's Detroit Metal City is like nothing you've seen before.  I remember when the first volume came out.  I knew nothing of the book, but as a Heavy Metal fan myself, I was instantly attracted to it. Now Volume 8 is hitting the shelves this Tuesday, and I'm salivating for it because I've become a totally obsessed follower of the cult of Krauser!  I've throughly enjoyed every single volume, the cartoon series, and the live action DMC movie adaptation of this… manga.  There, I said it. I like manga, but you won't see me cosplaying anytime soon. Hmmm… although a Krauser halloween costume could be pretty cool.
By all appearances, Soichi Negishi is a sweet, well-mannered boy who loves Swedish pop music, trendy boutiques, and all things fashionable. But at the same time he's also Krauser II, front man for Detroit Metal City, an indie death metal band whose popularity increases by the day. Once the DMC makeup goes on and Soichi takes the stage, his natural talent as a death metal god can't help but flourish. Is this the band he's truly destined to be in?

How did this happen? When and where did I go wrong? This is not the kind of band I wanted to be in!
It's like Metalocalypse meets Mrs. Doubtfire on acid.
The live action movie stars Kenichi Matsuyama, a pretty high-profile star in the manga adaptation genre, having starred in the Death Note series as L, and in the Nana movie.  It also features a guest appearance by one of my favorite people in the world… None other than the Devil Bat himself, Gene Simmons! You might know him from such films as Never Too Young To Die, Trick Or Treat, and a band you might of heard of called KISS! Unfortunately, the music in the live-action film does not evoke the true evil spirit of the manga, going for a nu-metal sound, unlike the anime, which used more traditional death-metal music.  I still wholeheartedly recommend the film, for the characters are spot-on and hilarious.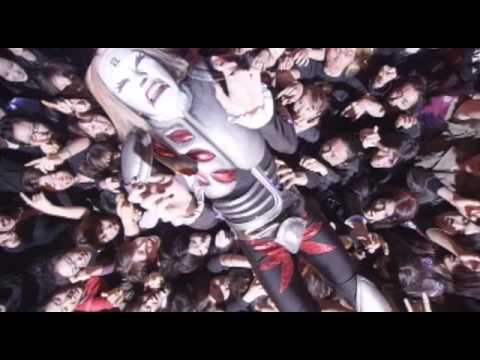 Now can someone please tell me where I can find a DMC shirt?